Play of light associated with cinema and consciousness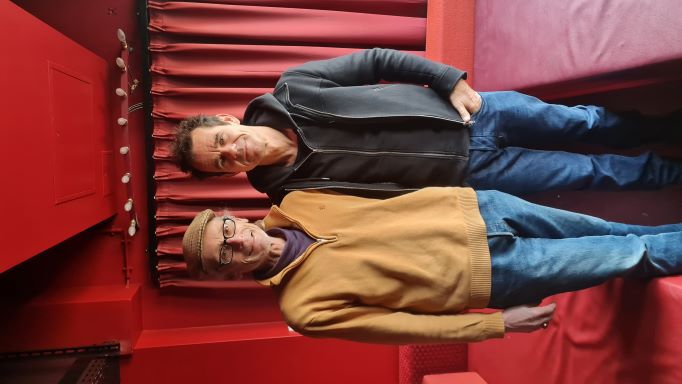 During his last stay in Berlin (Heliotropic Breathing workshop), Engelbert Winkler had the pleasure of meeting Tom Tykwer (film director: Run Lola Run, Perfume, Babylon Berlin etc.). Hannes Häusler, (Lucia N°03 Berlin, workshop coordination) arranged the meeting, which came about on Tom's initiative.

As it turned out, his interests included consciousness, perception, and the potential for altered states of consciousness. How fundamental Tom's understanding of these connections is became apparent when he discussed with us current neuroscientific findings on the relationship between the brain, ego and reality in the metaphors of classic light shows: when the world of our perception is based on the same principle that is in flight ball makes it seem like a whole lot that appear in different places at different times, each of us actually sits uninterrupted in the cinema of our individual light shows - as individual as every trip. The consubstantiality of light and consciousness, which was put up for discussion, also allowed for interesting associations. Tom and two of his friends obviously liked the Lucia N°03 demo sessions. They were particularly impressed by the immediacy of the effect. They were particularly impressed by the immediacy of the effect.


Tom Tykwer, German director, writer, composer and producer:
http://www.tomtykwer.com/

Hannes Häusler, Light Attendant in Berlin:
This email address is being protected from spambots. You need JavaScript enabled to view it. https://lucia-no3.weebly.com mobile +49 17664915251

Dr. Engelbert Winkler, psychotherapeut, co-developer Lucia N°03:
www.blick-hinüber.at
mobile +43 664 1807871